Table of Contents



Site Page Counts
Public: 561
Restricted: 63

Betty Fagenson Lewis was born in Wysokie-Litovsk. Her mother was Fruma Matl Feigensohn.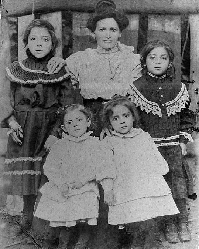 Hannah (Anna), 12
Fruma Matl Feigensohn, 46


Shaineh (Jennie), 10
Rivkah (Betty), 7
Faygele (Fay), 8
This picture was taken in Wysokie-Litovsk in August, 1910. Dr. Berens thinks that her grandmother wanted to leave a photo of herself and her children with her mother-in law, Bubba Gittel who was not going to the United States

In August of 2005, Dr. Gloria Berens of New York, USA, Betty Fagenson Lewis' daughter, gave us written permission to post this story here. Headings added for reference purposes by the webmaster.
My Family Tree

Israel Fagenson, my great-grandfather, Born circa 1825-1830(?)
Gitel Fagenson (maiden name unknown), my great-grandmother

Their children:
• Nakhum: The eldest son, born circa 1855-1860. Went to Bialystok. It is this branch of the family that I have been trying to locate - and finally found.
Don't know how many children Nahum had but I do know of one son.

• Velvil: Second son

• Zelig, my grandfather, the youngest son



THE BIALYSTOK FAMILY: DESCENDENTS

Ephraim, son of Nakhum, (father of Ya'acov), born in Bialistok in1890; Information from the Pages of Testimony at Yad VaShem given by his son, Ya'acov. Perished in the Holocaust.

Fania: Wife of Ephraim, mother of Ya'acov. Perished in the Holocaust.

Felix: son of Ephraim and Fania. Perished in the Holocaust.

Gitel: Daughter of Ephraim and Fania. Perished in the Holocaust.

Ya'acov: Son of Ephraim and Fania. Emigrated to Palestine at age 21 in 1935. Ya'acov died in 1986.

My mother and her sisters were first cousins of Ephraim. I am a second cousin of Ya'acov.

Don't know the name of Ya'acov's wife. They had two daughters, Dorit and Tzipi.

These are the living relatives that were just located by the ARC and Magen David Adom in Israel.
---