Table of Contents



Site Page Counts
Public: 561
Restricted: 63

A presentation of Troubles of Fathers and Mothers by the local Tarbut school: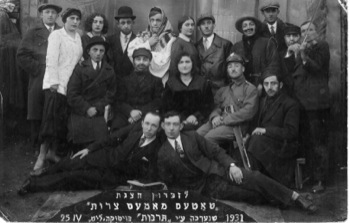 The Cast
Text on the photo, first and third line in Hebrew and the name of the show/play, second line, in Yiddish:
לזכרון הצגת
"טאטעס מאמעס צרות"
שנערכה ע"י "תרבות" בויסוקה.ליט 1931 25 IV
In English:
In memory of the show [play]
Troubles of Fathers and Mothers
Staged by Tarbut in Visoke.Lit. 25 IV 1931
(photo reverse)
On the reverse, with ellipses ("...") replacing a number of illegible portions:
צום אנדיינקונג
פאר(?) מיינע טייערע
זלאטקע און רייזל
... בעסטע בעקאנטע
[גיטל?] עפשטיין
וויסאקע ליט
In English:
To remember
… my dear
Zlatke and Reizl
best acquaintance
… [Gitl?] Epshtein

Visoke Lit 11 VI 1931
Notes: An eyewitness (Roslyn Kolner Bresnick-Perry) recalls a permanent theatre venue in a barn-like structure existing circa 1928, but the location of this structure cannot be determined.
---