Table of Contents



Site Page Counts
Public: 561
Restricted: 63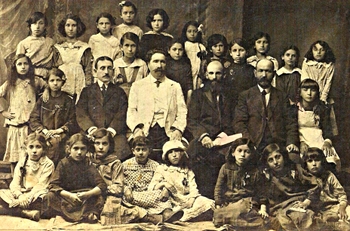 A group photo, probably taken in Wysokie-Litewskie.
Contributed by Ben Minoff and
Dolores Minoff Cohen Ellenbogen

The 1st girl from left in the first row (with the long braid) is Shana Malka (Jean) Minoff, daughter of Borach & Zelda Minowicki, later to be mother of Doloros Minoff Cohen Ellenbogen.

The 5th girl from left in the first row, wearing a hat, is Sara Komornik, later Sara Miniewicki, Ben Minoff's grandmother.
Editor's Notes: This photograph is unusual for the variety of expressions, body language, clothing, hair-styles, and physical characteristics of the girls. Were these girls accustomed to being photographed, and even willing to show a little attitude? The adults, all men, are wearing a variety of stylish clothing. Their stiffness is familiar. They were accustomed to long exposure times required for the photographic technology of their day. Click on the thumbnail above to see a much larger version.
---