Table of Contents



Site Page Counts
Public: 561
Restricted: 63


The process by which the new owner took possession of the site was apparently obscure even in Belarus. This attracted the attention of the Minsk-based Belarusian publication, 7 Days, which sent reporter Olga Kostyukevich to Vysokoye to investigate. Kostyukevich's article appeared on the 7 Days website, datelined 19 August 2010, in Russian, here. (See here for a computer translation to English by Google Translator.) A contemporaneous print version also appeared: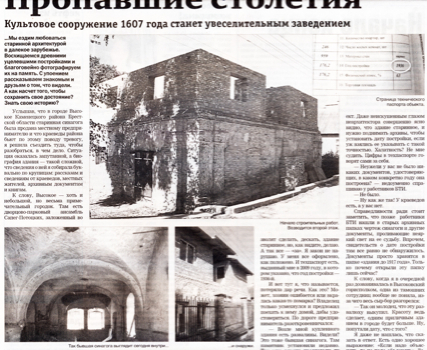 Print Article in Belarusian Publication, 7 Days
A portion of a government register is reproduced at upper right.
Courtesy of: Oleg Medvedevsky
The name of the purchaser is not given in either the web or print version. The eventual use of the building is not yet determined, according to the new owner, but he is quoted as saying, "...in the long run, a cafe or bar..."

According to the article, permission to modify the building was incorrectly given by local officials on the basis of an original construction date of 1936 erronously recorded in the government register.
A parallel article dated 20 - 26 August appears on the website of the Brest Gazette, in Russian, here. It can also be seen in computer-translated English here.
---