Table of Contents



Site Page Counts
Public: 561
Restricted: 63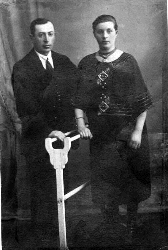 My mother and father, Avrom Mayer and Dvora Zietz Kolner.

My mother is pregnant with me.
Thus, this picture is from about 1920.
Editor's Notes: Note the studio backdrop. Is it possible to keep track of all the backdrops? Would this provide any additional clues? Is that a quilt rack between the couple?
---