Table of Contents



Site Page Counts
Public: 561
Restricted: 63

It was apparently a custom in 1930's for emigrating Wysokers to give an inscribed photo to their friends and relations remaining behind. This one was from Ephrayim Epshtein to Zlate and Reizl Vitshulker.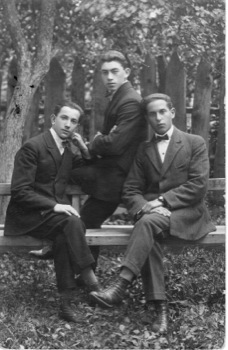 A keepsake
(photo reverse)
Wysokie Litewskie, 1929

Yiddish on the reverse:
מיין בילד
אנדענקונג פאר
מיינע בעסטע בעקאנטע
זלאטע און רייזל ויטשולקער
פון מיר אפרים עפשטיין
The English translation:
My photo.
A remembrance for
my best acquaintances,
Zlate and Reizl Vitshulker.
From me, Ephrayim Epshtein
Notes: Such keepsakes from emigrating Wysokers were not uncommon. Were photographs becoming less expensive, or were the emigrating families more affluent?
---