Table of Contents



Site Page Counts
Public: 561
Restricted: 63


Presumably the sender, Noakh Razin/Rozman, is among the those shown in the photo montage
: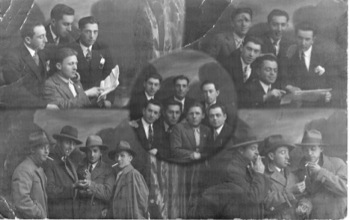 A Memento
On the reverse, a Yiddish
inscription:
צום אנדיינקונג אוייף
רייזל און זלאטע
נח ראזין/ראזמ
The English translation:

To remember:
for Reizl and Zlate
[from] Noakh Razin [Rozman?]
with the location, Wysokie Lit and the date, 19 December 1931, writen in Polish. The photographer's stamp is of the familiar J. (Judel) Bonder of Wysokie Litewskie.
Translator's Note: The signature is not clear and it is impossible to decide if the surname is Raizin or Rozman. --H.K.
---