Table of Contents



Site Page Counts
Public: 561
Restricted: 63

A momento to Zlatke Vitshulker: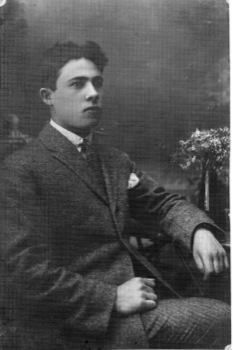 Hershl Feldman, 1924.
The inscription, dated 1924 in Wysokie Lit., in Yiddish:
צום עוויגען אנדענקען
שענקע איך אייך מיין בילד
פיהר געעהערטעס פראוליין
זלאטקע וויטשולקער פון אייער
בעסטען בעקאנטער הערשל פעלדמאן
Translated to English:

For an eternal memory.
I present to you my photo.
For the esteemed young-lady
Zlatke Vitshulker from your
best acquaintance Hershl Feldman
Notes: " עוויגען" eternal is not spelled in the cutomary way.
---