Table of Contents



Site Page Counts
Public: 561
Restricted: 63

Agricultural Group Trumpeldoria together for a meal in Wysokie, 1925: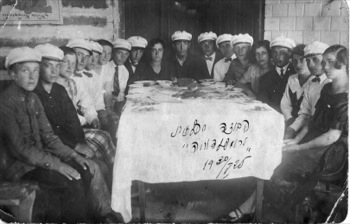 The Group Trumpeldoria
On the photo foreground, in Hebrew:
קבוצה חקלאית "טרומפלדוריה"
לזכרון מהקבוצה שלנו
30.V.25

Translation to English:
Agricultural Group Trumpeldoria
In memory of our group.
30 May 1925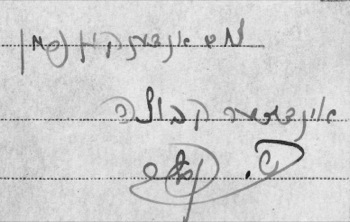 (photo reverse)
The Yiddish text on the reverse:
צום אנדענקען פון אונזער קבוצה
ש. קסלר

English translation:
In memory of our group.
[signature] S. Kessler
Notes: S. Kessler is Shimon Kessler, per information to be published later. The white tile visible in the background at right is typical of the standard furnace/stove found in most pre-war homes in the region. Such stoves may still be seen in old houses, today.
---